Just because you feel tired, it doesn't mean you have to look tired. Makeup can be transformative, even from the outside in, so if you also tend to show your exhaustion under your eyes, concealers are key.
This is far one of the most often asked questions that deals with the ever-so-popular under-eye area for mature skin. It seems to be a common complaint among us ladies, either with dark deep blue or purple circles or bags under the eyes.
So today we'll demo and review the best concealers for mature skin, with varying coverage, as a guide to what may work to cover those circles and hide those lines! If you've been using the same concealer for years now, like I have (my holy grail is Tarte Shape Tape), then you're probably missing out on some opportunities to try something new.
So here we are, 1 week and over $300 later, testing out concealers every day. These reviews are not sponsored, and all products shown were purchased.
How to apply under eye concealer so it doesn't crease on mature skin
Before we dive into each concealer review, it's important to know how to prepare the undereye area before you apply your concealer – this will really help you stop under eye concealer creasing. So the very first thing we'll be doing before applying each concealers is:
Apply skincare. Products like La Roche-Posay Hydraphase Intense Eyes or Sunday Riley auto correct brightening and depuffing eye, which has caffeine in it, are great options to make your eye area hydrated and depuffed.
Use a cooling tool – I use the INC.redible De-puffing Under-Eye Jade Roller – just to get rid of the bags and the puffiness from overnight. Another tool I love is the SIO Cryodro ($115) that I keep in a mini refrigerator in my bedroom – this has a magnificent cooling effect, it gets any fluid out and it's a great starting point for the day. Low budget tip: No tools around? A simple bag of frozen peas will do the trick – yes, really!
Apply a peach or orange based color corrector. I use Sephora Bright Future Color Corrector in Melon for $14. A tone color corrector is critical to override those blue and purplish tones, and you really need a peach or orange-based corrector to take care of that.
Use a good concealer brush. The one I prefer for application is the is Marc Jacobs Conceal Full Cover Correcting Brush for $24.
Follow up all concealer applications with powder. I'll be using one of my favorite powders, Laura Mercier Secret Brightening Powder for Under Eyes, $28. It's a great powder to set concealers and it will help the product stay in place – its formula doesn't dry out mature skin.
Shop recommended products here:
I do want to address something because I'm starting each of these demos with the Sephora brand color corrector in the peach. And you may be thinking, "Well, wait a second. By doing that, I can't fully see what all of these concealers can do."

If you have very strong discoloration under the eyes, what happens is you start overcompensating with the concealer and applying way too much to be able to color correct – not doing that will help you stop creasing. By building on too much product, it can lead to a lot of cakiness, and crepiness, and crumbling, and no concealer is going to satisfy you that way.
Of course, the list of concealers can cover not only the under eye area, but blemishes, stubborn dark spots, scars, any uneven skintone, broken capillaries, and you can also highlight and contour your cheeks with them.

Let's go into reviewing each concealer for mature skin:
1. Tarte Shape Tape Concealer
Best selling concealer
First impression:
It blows my mind how well this concealer works on mature skin. It's no wonder why it's a bestselling product.
It doesn't fill in the crease, meaning by the end of the day you won't see any of the lines of the crows feet, which can be a little aging. It dries matte, but even if doesn't draw attention to dry spots or feel cakey on skin, despite its mattifying effect.
It's a concealer that I can always count on. Once it's on, it's really on.
Formula:
It's incredibly creamy, with hydrating ingredients, like mango seed, shea butter and licorice root extract to help color correct and brighten the appearance of dark circles. The formula is intense, opaque and it literally sits right on top of the skin. By the end of the day you won't see lines, creases, you won't see anything except concealed eyes.
It really does take a few years off. Who doesn't love that?
Application:
Since its formula is on the thicker side, a little goes a long way with this stuff. I'm using a dual sided brush from IT Cosmetics to apply it, but if you want you could just put just a little bit of that on your fingers and pat it in with your fingers, and pressing it in to become one with your skin.
Coverage:
Medium to high, and you can sheer it out if you apply a small amount.
Shades:
The shade range currently has 35 shades.
Cons:
It dries fast, so you have to be confident in applying it and working it in your skin. Overall, it really is a miracle concealer and it's my go-to ultimate under eye coverage.
Shop it here:
Tarte shape tape contour concealer in medium $29 https://bit.ly/2XNRc8y
2. IT Cosmetics Bye Bye Under Eye Full Coverage Anti-Aging Waterproof Concealer
Best full coverage concealer
First impression:
I will say this about the IT concealer: it's probably the hardest-working cream concealer out there when it comes to covering dark under-eye circles, crepiness, creasing, fine lines, even flakes.
Coverage:
High
Formula:
It's formulated with hyaluronic acid, collagen, and peptides, which are a great anti-aging ingredient that any mature skin will love. It applies smoothly to give waterproof full coverage that'll last you 24 hours.
It's suitable for all skin types. Free of harsh chemicals and the usual suspects, vegan, cruelty and gluten-free.
Application
Application here is key, though. It just takes a teeny tiny drop.
It has a thick consistency and it's not as easy to blend as other concealers, so just be aware of that.
A good concealer brush here is key. It's also recommended that you warm the concealer with your fingers and then tap it into the skin. Anywho, it took a little bit longer than your average concealer.
Shades:
It's available in 48 shades for you. My shade is 21.5 Medium Nude.
Cons: The only con that I could find was that some reviewers said it was too heavy. I would not use this concealer if I were doing a lighter makeup look.
How it wears:
I have to tell you, this stuff wore amazingly well. I was a little concerned when it came out of the tube, it was incredibly thick and oily. And I thought, for sure, my under-eye area's going to grease up. I'm going to be applying powder throughout the day. I only touched up with powder twice. I think if you are going out for dinner, you want something with staying power.
This Bye Bye concealer is a winner in my book.
Shop it here:
It Cosmetics Bye Bye Under Eye Full Coverage Anti-Aging Waterproof Concealer in shade 21.5 medium nude $27 https://bit.ly/DS-IT-Concealer
3. Kosas, the Revealer Concealer Super Creamy and Brightening Concealer
Best clean formula concealer
Kosas claims that this is a concealer and eye cream in one.
Coverage:
It offers medium to full coverage, and serves as a spot treatment for blemishes. It has a luminous and a dewy finish that's not tacky.
Formula:
There are three ingredients at work here. Number one is arnica to support your skin's healing. Number two, caffeine that brightens and de-puffs. And number three, peptides to support collagen production. So it's said to help dark circles, even blemishes will vanish over time.
This is vegan, cruelty free and gluten-free. It is Clean at Sephora, formulated without a list of 50 ingredients. So that really piqued my interest!
Application:
I found that it goes on wet. It actually dries on its own quite a bit.
You can choose to set it with powder or not, and you can layer over your foundation. I still set it a little bit with my Laura Mercier powder.
Shades:
Sixteen shades, all skin types. The shade that I'm using is 3.5.
Cons:
The cons that I found, reviewers said that the shades are too yellow.
How it wore:
For me personally, I have yellow undertones, so it actually worked in my favor. But if you definitely have red or peachy undertones, it might be problematic for you. So I had a couple of red spots, and I immediately touched those with my concealer brush, and they vanished, and they did not pop out during the day.
I would say that this one shows a little bit more of the crepiness and the creasiness than the other one, but it's also a lighter, more natural type of a product. If a clean product really resonates with you, then I definitely think that this one by Kosas is a wonderful product.

Shop it here:
KOSAS Revealer Concealer Super Creamy + Brightening Concealer in shade 3.5 $28
https://bit.ly/DS-Kosas-Concealer
4. Maybelline New York Instant Age Rewind Concealer
Best drugstore concealer
First impression:
This concealer is touted by many as the drugstore go-to and rated one of the best concealers for mature skin. It's an award winner to not only reduce dark circles but also correct the redness of your skin.
I should have read the instructions first because you have to turn it in the direction of the arrows, and the glue from the seal actually covered those arrows. So it took a while to figure it out and get it going.
Formula:
It's fused with Haloxyl for fine lines and wrinkles, and goji berry extracts. It's also fragrance-free.
Coverage:
Gives you a sheer to medium coverage.
Application:
I put it on with the sponge applicator, but I still prefer using my brush to finish it off.
Shades: 18 shades, from cool to warm and neutral tones.
Cons:
The only con that I could find was that some reviewers said it might not be suitable for dry skin. So let's see what my mature skin thinks by the end of the day.
How it wore:
I have relatively dry skin under my eye, and I didn't feel that it made it dry, or cracky, or crepey in the least. In fact, it wore beautifully throughout the day. I only had a touch-up with powder one time. And for $8 and the kind of coverage this delivers and wearability is great. When I travel, this is the one that I'm going to pack in my cosmetic bag for sure.
Shop it here:
Maybelline New York Instant Age Rewind Concealer https://www.maybelline.com/face-makeup/concealer/instant-age-rewind-eraser-dark-circles-concealer-treatment
5. Yves Saint Laurent Touche Eclat High Cover Radiant Concealer
Best brightening, natural coverage concealer
So they say if things are looking a little dry, dull, and puffy, this pen can really brighten things up.
It's said to erase hereditary dark circles and signs of fatigue. It provides all-over natural luminosity without shimmer or glitter. It actually reflects light away from the eyes. And this one can also be used as a highlighter.
So let's see if my dark circles will be banished by nighttime!
Formula:
It's infused with caffeine and Ruscus extract to de-puff, vitamin E and Calendula extract to soothe, and hyaluronic acid to hydrate. I did notice it had a bit of a cooling effect from the Calendula in the product, which is always helpful with under eye products. It is free of sulfates, parabens, and phthalates.
Coverage:
It offers natural coverage, one that you can build.
Shades:
Comes in 16 colors, all skin types. I wore Shade 2, which is Ivory.
Application:
You can set this one with powder or not if you want a more dewy finish. Its little brush can get into really tight little spaces all the way on the inner corner, on the outside for spot correcting. So that's a plus as well.
How it wore:
There's no crinkling. There's no creping. I noticed that as the day progressed, I started to get a little bit more of the purple color and blue starting to show right here. So it's not a super-high-coverage concealer, just because it allowed some of that discoloration to show.
Cons:
Now, the only con I could find on this, reviewers said it didn't give as much coverage as they had hoped. It's more of a natural finish. That's why it would be best used with more of a pared-down look. The minus was exactly what other reviewers had said, which is it didn't seem to wear as long.
Shop it here:
Yves Saint Laurent Touché Eclat High Cover Radiant Concealer in shade 2 Ivory $35 https://bit.ly/DS-YSL-Concealer
6. NARS Radiant Creamy Concealer
Award-winning concealer
My concealer of choice today is NARS Radiant Creamy Concealer for $30 in Medium Custard. People love this award-winning concealer. They say it provides great coverage without feeling heavy, cakey, or clogging the pores.
One of the things I love about this is they offer you a mini size for $13. So that's great if you don't want to invest in $30 to test it out.
Formula:
The ingredient list is probably the reason for the light feeling on the skin. You've got magnolia bark extract, grape seed extract, and vitamin E to reduce the appearance of redness and to promote moisture retention.
It's suitable for all skin types, sulfate, paraben, formaldehyde, and gluten-free. Also a vegan product.
Shades:
30 colors. I wore the shade Medium Custard.
Coverage:
This one lasts up to 16 hours and is a medium-coverage concealer.
Cons:
I could not find any con whatsoever. Reviewers kept describing this as their holy grail of concealers.
But for me, sadly, it's not my holy grail. I had such high hopes, and it's not to say that this isn't a good concealer, because it really is. One thing that it does is that it's very, very good for the under-eye area. There's no creping or crinkling.
But when pushing in close what you will notice is that some of the depths and the discoloration right in here started to pop in and you will need to just tap there just to cover it. This will have to be a four-star just because it wasn't close to the Shape Tape concealer.
Shop it here:
NARS Radiant Creamy Concealer $30 https://bit.ly/DS-Nars-Concealer
7. Bobbi Brown's Intensive Skin Serum Concealer
Best concealer for hyperpigmentation under the eye
This is the most expensive concealer on the list. It's described as a silky hybrid formula to treat and tone under the eyes. So I'm wondering, is this one going to leave my under eyes concealed by 11:0PM?
Formula:
It uses cordyceps mushroom, Indian tree root, and bamboo grass. Now this formula is said to counteract excess pigmentation while leaving skin plump, smooth, and more refreshed.
The weightless serum glides easily over the color corrector. It is said to brighten and boost hydration for a fresher, brighter, more rejuvenated look.
Paraben, phthalate, sulfate, and sulfate-free.
Application:
It's easy to blend using fingers or a brush like Marc Jacobs The Conceal Full Cover Correcting Brush for $24.
Shades:
Comes in 22 shades. Suitable for all skin types.
Cons:
The only con, obviously, is the price, because it is the most expensive at $45. Major sticker shock, $45 is a lot for a concealer.
How it wore:
I really do feel this concealer performed exceptionally well. As I push in tight, you can see it's still there. It took care of the delicate skin underneath the eye area. In fact, it even talked about correcting hyperpigmentation under the eye, which is why it really spoke to me.
I found that it went on very thick and creamy, and I thought, "Hmm, the consistency is awfully similar to the IT Bye Bye Under Eye." But unlike that one, this one started to dry on its own. So I felt like I needed less powder throughout the day. I'm really happy with this.
It's going to get five stars!
Shop it here:
Bobbi Brown Intensive Skin Serum Concealer in shade Beige $45 https://bit.ly/DS-BobbiBrown-Concealer
8. Charlotte Tilbury Magic Away Liquid Concealer
Best concealer for blurring effects
Now this one's five years in the making. Charlotte Tilbury has been working on what she calls her holy grail of concealers to reduce the appearance of dark circles, blemishes, and imperfections.
Formula:
This product uses Persian silk tree bark extract to reduce the appearance of crow's feet and to fade dark circles with the extract of wild indigo. It's a native Indian plant that's said to enhance the skin's luminosity.
The formula is long-lasting, suitable for all skin types, and is paraben-free.
Coverage:
It is a full-coverage concealer. You can use your ring finger to blend.
Shades:
Comes in 20 shades. I wore shade number 4, Fair.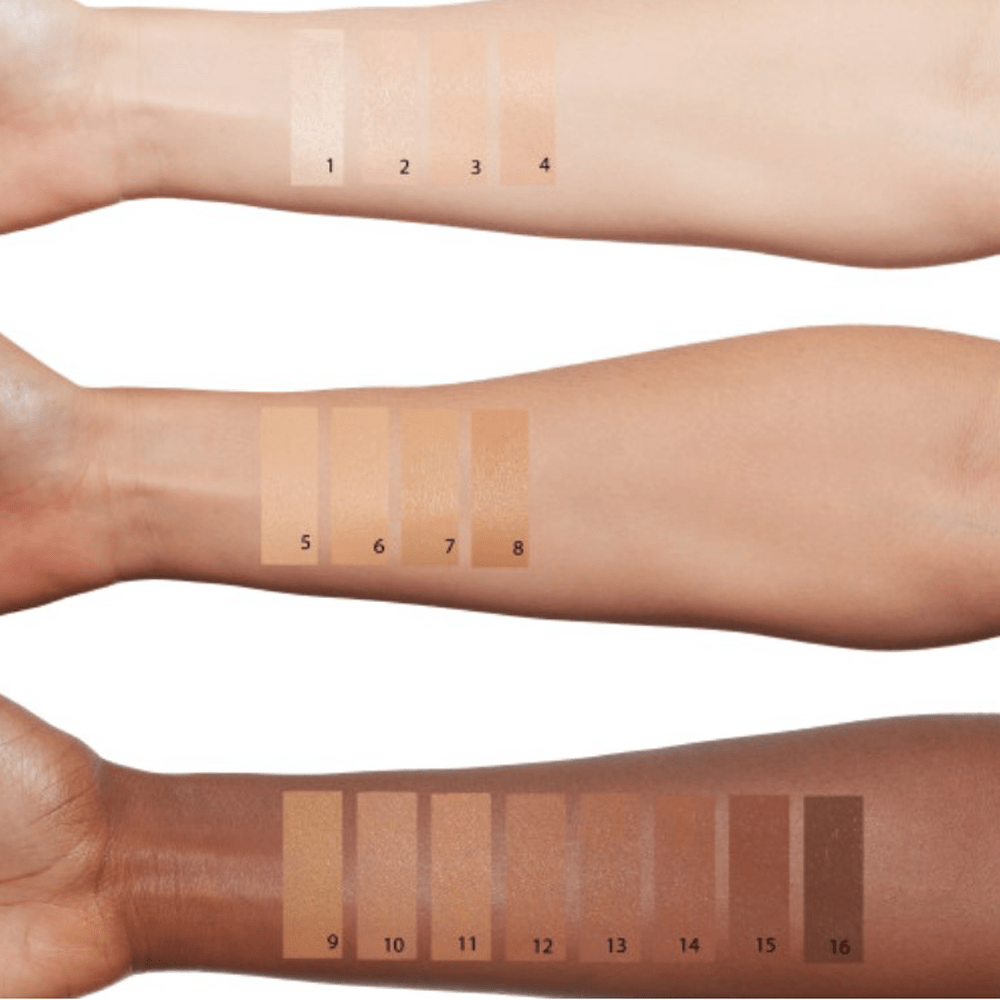 Cons:
Now, the con that I found was that reviewers said the applicator design is a little bit difficult, and I am so bummed. I am such a huge Charlotte Tilbury fan, but this concealer just did not meet my expectations. Like the reviewers had said, I, too, was not a fan of this application tip. I found it to be too big. And as I tried to get to the inner corner area, it was kind of poking up and hitting my lower lash line. It's just too.. clunky.
How it wore:
As time went by, I found that it was starting to fade in the inner corners. And then as the hours went by, I was seeing some cracking and creasing on the outside of the eye.
So, sadly, this concealer is just going to get three stars, unfortunately.
Shop it here:
Charlotte Tilbury Magic Away Liquid Concealer $32 https://bit.ly/DS-Charlotte-Tilbury-Concealer
9 . KVD Lock-it Tattoo Concealer
Best concealer for longevity
This one was incredibly impressive as well. Not as thick as the Tarte Shape Tape. It has a little more of a watery feel to it than the Tarte. And I love Tarte. I was pleasantly surprised with this Kat Von D concealer.
And I'll tell you what, this product, if it can cover a tattoo, it can cover some age spots, and blemishes, and discolorations on the skin impeccably. So it was a good discovery for me.
Shades: 17 shades available, one of which is a white out
Application:
My concern was, obviously, it wouldn't have the same coverage. But sure enough, it did.
So, I applied just a little bit to my middle finger, I blot, and then I just pat under the eye area. It has a thinner consistency. Again, it doesn't sink into the lines.
You know, sometimes you find with a heavy concealer, by the end of the day, it's completely fallen into your smile lines, and your lines around the eyes, and that's all you notice. But this doesn't. It sits very well on top of the skin and provides excellent coverage.
Shop it here:
KVD Lock-it Tattoo Concealer https://www.sephora.com/product/lock-it-concealer-creme-P409985
So what concealer won the "Best for mature skin" award?
After testing all these concealers, I still consider my Tarte Shape Tape Concealer to be my number one holy grail. Although I have to say, I have discovered a lot of new concealers that I'm liking!
I look forward to reading what you have to say, so if there's other concealers for mature skin that you'd like me to review, please go ahead, lay it out below!
And don't forget, keep hydrated, do yoga, be mindful, get plenty of sleep (your girl here loves to sleep!) and eat a well-balanced diet – it will all work together with the makeup you apply.
Up next, we'll review the best foundations for mature skin!