We ladies, as we mature, tend to develop a little bit of a heavier eyelid skin on our lid, creating a shrunken, tired and downturned look, making our eyes look heavy and not as bright and as fresh as we once had.
If you're interested in how to combat this, we put together this makeup guide meant to give an eye lift for heavy-hooded and downturned eyes. We're going to show you very simple makeup techniques to really open up the eye, to even angle things outward a little bit to create a tiny bit of a lift.
So, let's talk about a couple of tips for hooded, heavy lidded eyes and how to solve the most common issues that we ladies face. I'll show you how quick and easy it is to create an eye lift just with the right application of pencils and color – you're going to be amazed:
Eyeprimer is a must for hooded eyes
Primers are so important because our eyelids create oil and that oil allows makeup to sink southward. And a lot of you say, "What can I do to prevent my makeup from getting into my eyelash line and below?"
Primer is a must for us ladies. So find one that works for you. There are so many on the market that do a great job, so it's a complete personal preference here. You can choose one that has no color and just do a light coat on the lid and then use a brush to blend everything through.
This really sets the stage for what's to come and I think it's just critical for your eye makeup looking spot-on.
Recommended product: A good neutral and long lasting eye primer.
NARS Pro-Prime™ Smudge Proof Eyeshadow Base. It's a clear type of an eyelid primer.

Carry your brow product a tiny bit above your natural eyebrow to create a subtle outward lift
Our eyebrows are the frame for your eyes. So it's really important to make that frame look pretty, but also to create a little bit of a lift.
If you have a droopy eye, what'll happen is if you follow the natural line of your brow, or like some of us tend to shadow in the brow and carry that line down, that only accentuates the droopiness.
You don't want to look like you've added a stripe above your natural brow line, but you want to carry your shadow or your pencil just a tiny, tiny bit above. You'd be amazed, a millimeter or two difference, what it can do for the shape of your eyes.
A little bit of an outward kick can create such a nice lift to the brow. It's very important that they look symmetrical and have just the right shape.
Recommended product: Colorescience Eye and brow palette
Fill in over tweezed eyebrows
Another issue that we have, that's not very often addressed for downturned eyes, is overtweezed eyebrows.
When we all tweezed our eyebrows back in the '90s to get that very thin line, we thought we were doing ourselves a big favor by gaining extra real estate on the eyelid to play with, because the hair covered an area that we now can use for shadow.
But the problem is, is what we've done by tweezing these lower eyebrow hairs, we have now exposed more brow bone. The bone protrudes and comes forward. So you take that, combined with excess skin that's forming on the lid and you have more coming forward, and less receding, which is what we want to create.
Keep the brow bone minimal
While other tutorials put a lot of emphasis on the eye makeup, it actually all starts with the eyebrow.
The eyebrow is the framing, the window of the eye. So the shape of the brow will start it, but it's really technique and color placement that makes a huge difference in how your eye appears.
First of all, a lot of us have a heaviness on the lid. That heaviness, if we apply too much of a light eyeshadow it projects forward, because light protrudes. And so it only makes a heavier lid look even heavier when we place too much light eyeshadow on it.
Apply eyeshadow in a gradual gradient effect, from dark at the lashline to lighter application towards the crease
One of the biggest issues for droopy eyes is looking at the crease. Usually the crease is very, very low.
So to create a more open eye, a deeper eye socket, what you need to do is instead of applying light eyeshadow at the base, apply darker eyeshadow towards the lash line, and go lighter in application towards going up.
That's the shocker in all of this. Most people think the dark eyeshadow needs to be applied higher on the crease and lighter shadow at the base of the eyelid. Applying it in this order, if you don't have a lot of space in your eyelid, will going to wind up doing that third type of a look which will then cut everything.
So it's going to be a very warm and gradual gradient in color.
Recommended products: A good neutral eyeshadow palette!
Tartelette™ In Bloom Clay Eyeshadow Palette or Sephora Pro Warm Palette
Don't cut short eyelids
The other issue that some of us might have is very short eyelids, when the crease hits very low in the eyelid.
So if you were to, say, put a light color on the lid and then carve out your actual crease, what happens is it looks like you've created these little stripes, a little stripe of light, a little stripe of dark, and then a big chunk of light. You can end up literally cutting your eye in thirds, making it look smaller.
Go above your natural crease line, creating an artificial crease line. Apply the crease line with your eyes open
The next thing that we're going to do is cut in a crease. So to do that, use a darker shade and to cut in a new crease line and create the illusion that you have a higher crease.
Your higher crease is going to be substantially above the natural crease, with a slightly outward appearance.
We are creating an artificial crease that's higher that's going to make the space of our lid look bigger. That is to create a much larger lid look and more of a recess. So the area that protrudes on hooded and heavy eyes is right in here. So where it protrudes, we want to create a look of going in.
The best colors for carving that crease are any shade of brown or plum. Black is too dark and harsh and you're going to most likely see that line. So keep it close to that color that you choose for your lid, but just a little richer and deeper.
Eyeliner for hooded eyes: tightline & connect the wing to your crease
The worst thing you could do on hooded eyes is to create a very thick, dark black line along your lashes, because all you're doing is cutting into that lovely space that you're creating.
So any kind of shadowing along the lash line really needs to be more of a top line.
You can take, for instance, a very thin brush and you can use the black eye shadow and in doing so, you can just run that into your lashes, tightlining your eyes. That's great for the waterline as well as the lash line. Go in from underneath and hit the waterline and just smudge a little bit into the lash line, being careful not to go all the way down.
Again, creating an outward look is essential, because we don't want to bring anything heavy down.
To complement the tighlining of your eyes, take a skinny little brush in the black shadow and work your way up toward the crease area. So, we are now creating a lift with a darker color being careful not to go too far down because we are now correcting any droopiness that we might have in our own shape of our eyes.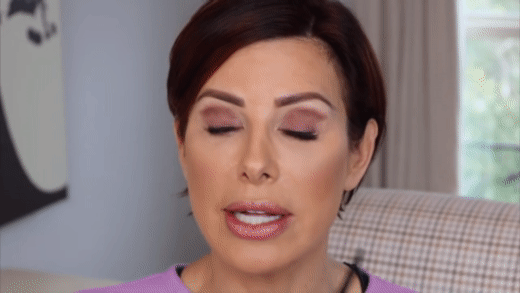 It's essential to pull everything together, meaning to connect the carved-out crease and the little bit of a black line ever so slightly and this creates a more subtle look.
If you want a little bit of a heavier black line, you can just go back in again and just run that a little bit on top if you so choose. But, again, it's just a tiny little flick upward and not going too far. So the next thing we want to do is really blend all of this together.
Black is best hugging along that upper lash line and again, creating a little bit of a flick. You have an option if you want to do anything on the lower eyelid or not, if you want to do any water line and smudging, you can.
Recommended product: L'Oreal voluminous eyeliner in brown
Blend everything with a tan color that's close to your skin color
So I want to smooth everything out and I'm going to pick a neutral blendable color. It's lighter, but it's not white. So this is a good way to kind of pull it all together with a blending brush.
And now soften out this top part and get rid of any harsh lines. Blending is key with anything, as you know, and we will highlight our brow bone in just a second, but that area is not going to be as big as what you might normally do.
So use a little bit of a tan color, close to skin color.
Use a touch of highlighter for the brow and the inner corners of your eyes
Take your favorite highlighter and follow up with a touch of highlight color for the brow, lightly. What you're doing is giving a little separation between the darker color of your brow and the eyeshadow colors that you just created. This helps to make the brow pop nicely.
Do the same on the inner corners of the eyes. Applying the same color in a little V-shape helps to brighten the eye.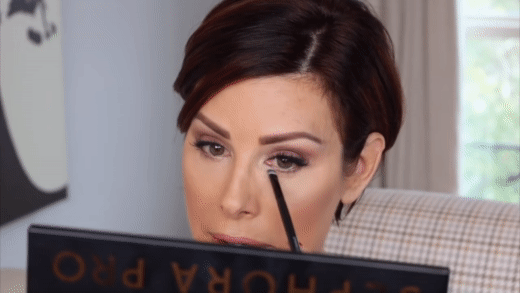 Use brown instead of black if you want a smokey eye look
Yes, you can do a smoky look with hooded eyes. It will not make them look smaller. The key is using a brown instead of a black – it's just not as severe.
So this is not a dark color that I'm working with. It's a medium and I'm staying right there in my lash line. I'm now softening. So all it's doing is building a little bit of a definition to my lower lash line without too much of a pull downward.
Curl up your lashes and use two coats of mascara – it's key for a lifting effect
Eyelashes are key – curl them with an eyelash curler and spend your time with mascara, give it a couple of coats, because having those lashes now moving upward and curling upward, again, have that same lifting effect of bringing everything up.
Lash extensions help a lot and you don't have to apply mascara if you have them – a big help for me since I've got to go through this process every single day. It really saves a good five minutes out of the makeup routine.
Recommended products if you don't wear eyelash extensions:
Rodan + Fields Enhancements Lash Boost
Thrive Causmetics liquid lash extensions mascara –
Keep the outer corner of our eyelashes line up
The other issue a lot of us have is a downturned outer corner of our eyelash line, creating a little bit of a droopy effect. There are several techniques there to pull that outer corner up.
If you wear eyelash extensions, one trick you can do is to tell your technician not to attach the lashes all the way down on those last lashes in the outer corner because that will accentuate a droopy look. You can tell the technician to stop and leave a few of your natural lashes there so it creates a little bit more of a winged-outlook and helps to give a little bit of a lift.
Takeaways for hooded eyes:
You will definitely see the illusion that these makeup tips will create. A big part of how much larger eyelids look is due to the fact that things are going in instead of coming forward.
Again, make sure that there are no heavy lower lines – what we have done is we have opened up our eyes. We have created more space for color, and we don't want to close it.
We have created a new crease by going up and actually cutting that crease just under our brow bone. We've angled things out slightly above where our bottom lid ends to help eliminate that droop.
As we know and as we age, it's best to do less and less on the lower lash line and to keep everything focused upward.
I really hope that this debunked some myths about colors and where they go and opened your eyes, so to speak, on how to open your eyes and to create a wider eye look with makeup, create an eye lift with makeup as we deal with heaviness, hooded or downturned eyes, as we get a little older.
Practice.
Get out there, give this a try, see how it works for you.
So go out, be bold, be blessed as always with those big eyes of yours!
This tutorial is also available on Youtube, on our channel, so don't forget to tune in:
Next up, learn about Botox and how it can also fix hooded eyes!