Makeup is exciting at any age and no matter your features, and there are an infinite amount of looks that you can try. But when you have hooded eyes, the general perception is that your possibilities narrow, especially when it comes to eyeliner.
Hooded eyes mean that you have little visible space on your mobile lid. This usually happens because the upper skin droops over it and covers most of your lid. Some people have this eye format by default, and others get it with aging. Our skin loses collagen and elasticity in time, and the skin becomes saggy.
A common misconception is that you can't wear eyeliner when you have hooded eyes. Applying eyeliner on hooded eyes, making them look great, and keeping it smudge-free is more challenging. But there are some fail-proof techniques, tips and tricks, and a choice of products that can make your life easier. The result will be impeccable eyeliner that doesn't transfer.
Eyeliner is different for everyone, and you may prefer a smudged eyeliner look or a very defined liner. The only issue here is to do it in a flattering way that doesn't weigh your eye down. Otherwise, the sky's the limit!
Where Do You Need to Put Eyeliner On Hooded Eyes?
A few techniques can help you create a beautiful eyeliner look for hooded eyes. But they all circle back to one single idea – create a lifted and bigger eye, and not one that drags downwards.
You can place your liner on the upper rim of the eye to have more space for eyeshadow on the lid. Or you can make a very subtle line on the upper lid by using small strokes and blending the eyeliner. Both methods will emphasize your lash line and frame the eye without adding heaviness.
The products that you use are also crucial – choose a pencil or gel liner for a smudged, smokey look or a liquid liner for a dramatic finish. Always use transfer-proof products that are long-lasting; a hooded-eye means excess skin that will smudge eyeliner very easily.
Does Eyeliner Make Hooded Eyes Look Even Smaller?
Eyeliner can make your eyes look smaller if you place it wrong, and you are very heavy-handed. A strong eyeliner line on your upper lid gives the impression of an even heavier lid when you already have excess skin. All of this makes the eye look closed off, and it's not a flattering look.
Try doing a thin line that hugs your lash line, or just tight line your upper waterline – more on all my eyeliner techniques for hooded eyes, below:
Create a Transfer-Proof Base
A hooded eyelid gives a much bigger chance for eyeliner to smudge. Because there is excess skin drooping over your lash line area, eyeliner can easily transfer to the upper lid. This is why it is so important to use waterproof eyeliner and to create a smudge-proof base.
Use a silicone-based primer on your entire eyelid surface. This will create a barrier between the natural oils that come through the skin and the makeup products. The eyeliner will be less prone to" bleed" and move around. It's also important to apply transfer-proof products (liquid liner, gel eyeliner, or a pencil) and to wait until your eyeliner is completely dry before opening your eyes.
Start With a Small Amount of Product
Building up a product is always easier than taking it away – this has never been more true than with eyeliner! Sometimes you want to perfect that line, and you keep adding more and more and end up with panda eyes.
Instead, try using small back-and-forward motions to create little lines in your lash line. Then go over the edge to make it straight, but keep it near the lash line. If you feel the eyeliner isn't perfect, you can always go over it and smudge with a similar color eyeshadow. This will create a smokey and sultry look that may be exactly what you need.
Don't Carry Your Eyeliner Too Far Out
Hooded eyes can also be downturned sometimes. This means the outer corner of the eye goes visibly downwards; this creates a droopy look that isn't very flattering. What we want is a lifted look, as it will give a more youthful and rested appearance.
A heavy lid contributes to this overall downturned look, and it makes you look older or tired. Be careful not to follow this downturned line because this will emphasize the droopiness of the eye. Stop your eyeliner before this line and create an artificial lift of the eye. Do the same with your eyeshadow, and your eyes will appear more awake.
Draw a Thin Line on the Upper Eyelid
You have to adapt the way you do your eyeliner when having hooded eyes. When you have very little space on the mobile lid, doing a thick eyeliner line will look like you have black all over. This is, of course, a look in itself, but not a very flattering one when you have droopy eyelids.
Instead, try doing a very thin line, starting from the outer half of your lid. Only trace your lash line with the eyeliner, and don't make it thicker. Finish off with a small winger line that goes upwards for a subtle look that lifts the eye.
Always Do a Winged Eyeliner With Your Eyes Open
Drawing a winged eyeliner with your eyes closed can be misleading. When having your eye closed, it can look well-placed, but when you open it, you will find it's too low, or the line will be in your skin folds and look distorted or cut in half.
Doing your winged eyeliner while looking straight ahead in the mirror will give you the best results. This way, you can see exactly where to place the wing to have a lifting effect and make your eyes wispier. After all, it matters how you look with your eyes open, not closed.
Place the Eyeliner Below the Crease (If Possible)
If your crease doesn't go all the way down to the outer corner of the eye, you're in luck! You can place your winged eyeliner below the crease on a plane patch of skin. This means your line won't get interrupted by the skin folds, so it's an easy task.
However, if your crease ends too low under the outer corner, don't be tempted to draw your wing below this line. It will drag your whole eye down, making those downturned eyes look worse.
Create a C-Shaped Eyeliner Look
It may be difficult to draw a straight line if you have many skin folds where the outer corner of the eye ends. If you use a small trick, you can still get a winged eyeliner effect.
Look straight in the mirror with your eyes open. Draw a line from the outer corner continuing the lower lash line, and angle it towards the end of your brow. Then create the wing by connecting the outer wing with the eyelid – do this still looking straight in the mirror with your eyes open.
Now close the eye, and you will notice that drawing that upper line over the skin crease has created a gap. Close this gap by making a straight line between the upper part and the lash line. This will create a C shape on the inside part of the eyeliner. Fill in the shape, and draw a thin line of eyeliner along the lash line, to connect everything.
Let the eyeliner dry properly, and notice the full effect. The eyeliner's shape may look curious, but the winged liner will look perfect when you open your eyes. The idea with this technique is that doing a simple straight line would get lost in the skin folds. A more complex C-shaped line will cut through the folds and look like a proper wing.
Tightline Your Upper Waterline to Make Hooded Eyes Look Bigger
A hooded eye has very little mobile lid space, so covering that space in eyeliner may not be the best idea. For a more open-eye look, try tightlining instead. This means using a pencil to color your upper waterline.
This technique will give you the definition you need without losing any lid space. The effect will be brighter eyes that look open and awake. You can finish off this line with a very discrete wing at the outer corner. This will create a lifting effect for an overall youthful look.
Please watch a video tutorial here about how to make your eyes look bigger and more lifted:
Practice Makes Perfect
Don't worry if you can't get a perfect winged eyeliner on the first try. No one can master a technique just like that – it's all in practice. By doing it over and over again, you will train your hand to do the right movement.
And what's more important, by practicing, you will understand what suits your eye shape best. Maybe it's a full-winged liner, and perhaps it's just about tight lining. Just remember to always put your own style and flair into makeup because you know best what makes you feel best.
Eyeliner for Hooded Eyes Over 50
Women in their prime (meaning over 50) have more issues with hooded eyes. The skin loses elasticity, and it tends to sag over the mobile lid. This creates a heavier look that seems to drag the whole eye down, and make us look tired.
A well-placed eyeliner can help create a more open and wide-awake look. Creating a blended line that goes upwards is perfect for creating more space, and a lifted effect. Start by tightlining your upper waterline with a waterproof pencil. Then put a little black eyeshadow on your upper lash line, using a tiny flat brush. Finish the look with a small eyeshadow winged line.
For a full tutorial on this technique, please watch this video:
Try Tape
If you crave a sharp and defined eyeliner, I've got the perfect eyeliner trick for you. Using adhesive tape in the outer corner of the eyes is a fail-proof method, amazing for beginners. Grab a piece of tape about two inches long, stick it on the back of your hand and pull it. Do this two or three times to weaken the adhesive, so you don't harm the delicate under-eye area.
Now stick the piece of tape under the lower lash line towards the end of your brow; do the same on the other eye. Now you have the perfect placement for your eyeliner. Draw a line in the outer corner over the tape, then connect it to your upper lash line. Wait for the eyeliner to dry, then gently pull off the tape.
The result is a perfect sharp line that continues the lower lash line, so a great placement. You can also do this with eyeshadow, so you get a sharp edge and a lifting effect.
Watch a smokey eye look using tape here:
How to Do Eyeliner for Hooded Eyes That Doesn't Smudge
The lasting power of makeup is all in the products and placement. When you want smudge-proof eyeliner, you need to select highly resistant eyeliners, whether they are liquids, gels, or even pencils. This will ensure longevity throughout the day and that they won't transfer to the upper lid when you open your eyes, and that skinfold touches the liner.
First, create a long-wear base by using a silicone-based eye primer. This will ensure a smooth application for the eyeliner and that sebum will stay away for hours. Then apply the eyeliner, looking slightly down in the mirror if you can't see your mobile lid when the eye is fully open.
Wait for the eyeliner to dry completely before opening your eyes. Otherwise, the wet product will transfer. If you are using a pencil, you should set it with a similar colored eyeshadow (usually black or dark brown). This will make it even more long-wearing, even if you choose a waterproof pencil.
For a more dramatic eyeliner look, please check out this look:
The Best Eyeliners for Hooded Eyes
Here is a list of the best eyeliners for hooded eyes. I've chosen liquid eyeliners and pencils that apply smoothly and are long-lasting. Apply an eye primer, and let the eyeliners dry completely, and they won't smudge or move all day!
L'Oréal Voluminous Liner Noir Liquid Eyeliner
L'Oreal Voluminous Liner Noir is the perfect liquid eyeliner. It is a pen-type eyeliner with a very fine felt tip. This helps you trace micro-fine lines and create a perfectly precise winged liner.
The product is jet black and very pigmented. It gives instant definition and frame to the eyes, and it dries to a satin-matte finish. Once it is dry, the eyeliner stays on for many hours without" bleeding" into your crease.
Wunder2 Super-Stay Liner
This is hands-down the most long-lasting pencil you will ever use. The Wunder2 Super-Stay Liner is a highly pigmented pencil that glides on the skin. Once it dries, it becomes waterproof and transfer-proof – it won't budge no matter what.
I find this is the perfect pencil to wear on the waterline for extra definition. It doesn't run even if you have sensitive eyes that water often. So you won't find yourself with panda eyes and black marks under the eyes.
Maybelline Eye Studio Lasting Drama Gel Eyeliner
This gel eyeliner is a cult classic, and for a very good reason. It is surprisingly creamy, and it glides on the eyelid like a dream. It gives you enough time to create a certain shape or to smudge it. This type of eyeliner is perfect if you want a smokey look and a less sharp line.
Once it sets, the Maybelline Eye Studio Gel Eyeliner stays in place until you use a makeup remover. The product is affordable, so you must try a true drugstore gem! Check out the brown shade for a daytime look or the intense black for more drama.
L'Oreal, Voluminous Smoldering Eyeliner
L'oreal Voluminous Smoldering Eyeliner is a jet black pencil for the perfect smokey look. It is creamy enough to smudge it and create a feathered look, but it sets and becomes transfer-proof.
Try using it only at your lash line, then use a flat angled brush to blend it and pull it into a winged line. After getting the desired shape, use black eyeshadow on a small brush to smoke out the liner. This will create a beautifully sultry look that stands out.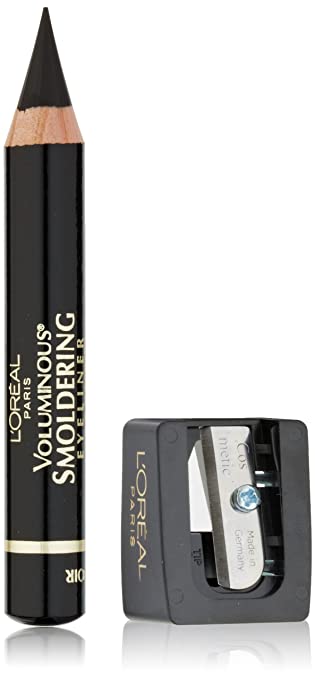 NYX That's The Point Liquid Eyeliner
NYX That's The Point Liquid Eyeliner is a truly unique liquid eyeliner. It comes in a pen, and each of the seven options has a different tip. Some have a very fine felt tip, and a thicker pointed one, or a sharp angled tip. So you can choose whatever style you are most comfortable with while enjoying the same great formula.
The NYX Eyeliner has a satin-matte finish that dries down quickly. It is very long-lasting, and it won't transfer no matter how many hours you wear it. The product is cruelty-free.
Covergirl Exhibitionist 24-Hour Kohl Eyeliner (No Budge No Smudge) in Black
Covergirl 24-Hour Kohl Eyeliner is a gel pencil that glides smoothly on the skin. It can help you create a smudged eyeliner look or a more defined and clean one. It is creamy enough to let you work it onto the eyelids, but once it sets, there is no moving it.
This creamy pencil dries into a waterproof formula that will last through tears, sweat, or natural oils. The eyeliner is highly pigmented, and it's cruelty-free.
Jentry Kelley Liquid Liner in Jet Black
This is a classic liquid eyeliner that comes in a bottle. Jentry Kelley Liquid Liner has a precise felt-tip applicator that allows you to create thin lines and the perfect winged eyeliner. It is a very pigmented formula that delivers a dramatic effect.
The formula dries down into a very long-lasting eyeliner, and it is safe to use in your waterline (some formulas may cause irritation when used on the inside rim).
Create the Perfect Winged Eyeliner No Matter Your Eye Shape
Women in their prime (meaning over 50) have more issues with hooded eyes.
The skin loses elasticity, and it tends to sag over the mobile lid. This creates a heavier look that seems to drag the whole eye down and make us look tired. So I hope you found this article useful, from the perfect techniques to get the most out of your hooded eyes to the best transfer-proof products.
No matter what eye shape, personal style, or age you have, you can always be bold with your makeup. I find it's the perfect way to express yourself, so use these tips and tricks to get the most out of your looks.
For a full tutorial on this technique, please watch this video: